Do you also wonder sometimes how the color changes go in a ball of yarn with multiple colors? I do! Frequently! You can see these beautiful colors on top and at the bottom of the ball, but how changes one color into the next? Does it go gradually? Or just a big jump from one color into another? It's not always clear. If you're lucky there's a picture on the band of the ball of a project that's made with the specific yarn, so you can have an idea. And we're lucky to have the internet nowadays, where you can perhaps find something, but it's not always clear. Usually it's limited to yarn suppliers that show a picture of the ball, but that do not show how the colorflow goes.
And how does the yarn 'feel' while working with it? Does the yarn split easily? How about knots? Is it sticky? I often see these questions on crochet or knitting groups. If someone has experience with a certain brand. I admit that opinions are sometimes very different. One person finds a yarn really great to work with, and another person totally utterly dislikes it.
I thought it would be nice to do a yarn review of a yarn I liked and already bought for myself. Well, it's a drop on a hot plate of all brands and types of yarns, but I already had it, so, why not? Also to experiment to see if you would find it interesting. And I knitted and crocheted with myself, so I could form an opinion of myself.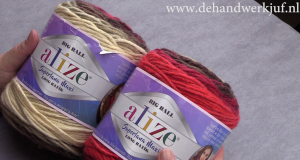 I made a video of the yarn you see above this post and to the side here (see the link down this post). It's Alize Superlana Maxi Long Batik. I'm really curious about your opinion. Would you like to see more video's like this? Or do you miss topics in the review? Please let me know!
Do you want to know where you can purchase this yarn: look on the site of my favorite yarn store De Wolman.
---
Disclaimer:
While making this video I was not an employee of the yarn manufacturer or the store where I bought this yarn.
I didn't get this yarn for free and I didn't get it with a discount.
I wasn't sponsored by the yarn manufacturer or the store where I bought this in any other way.
This is my opinion on the yarn!
The video
In English:
In Dutch: