Fun to see how it goes!
It is so great to see how it goes with the previous 2 parts, the bottom border and the crosses. It is not really visible here on the website, but on the facebook groups a lot of pictures are shown (sorry for the ones who follow this without facebook). It is clear that the setup for most people is something that you have to bite through abit, but after that the crocheting is delightful. And I'm happy to see almost everyone experiences it this way. It is also very nice for me to notice that all the materials I made is helping you.
The meander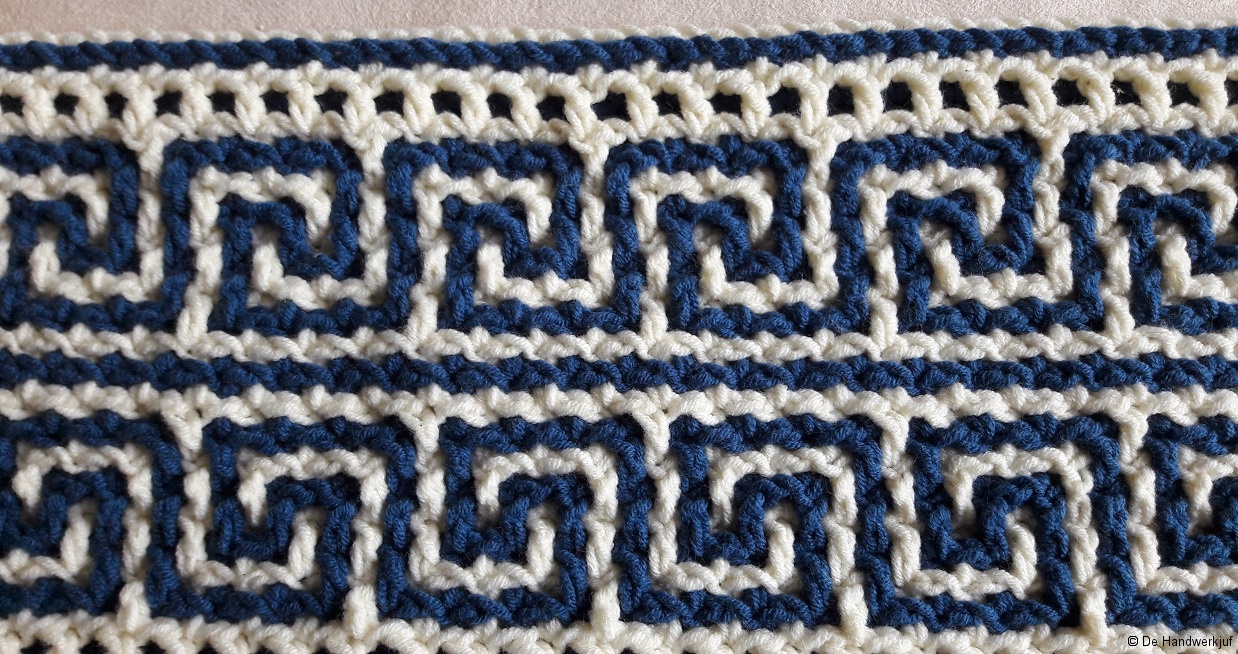 Today it is time for the next part: the Greek Meander. It feels so fitting with the colors I chose, the blue and white. I have never been to Greece, that is something that's still on my wishlist, but I've seen enough about it of course. And who doesn't know Mamma Mia 🙂 . I always liked the pattern. It is so simple, and yet I have to look each time again how to draw it. It seemed to me a pattern that would fit in the blanket anyhow. It will require a bit more counting, but still easy to remember.
You can find part 3 by clicking the following link or in the menu under HAL CAL: click here for part 3 <removed>.
Didn't you start already? Then you can look here for the overview page with all information: click here for the overview page
Wishing you a lot of fun again with this part!
---
<Edit January 16 2019: The pattern is no longer available for free. You can buy it from my Ravelry shop (https://www.ravelry.com/patterns/sources/the-craftsteachers-ravelry-store). You can find the bonusweek pattern there also. The pictures for each part (see examples on this page here) are also available from this store: https://the-craftsman.zibbet.com/. >
---