In this video I show you how to do color changes. I first intended to do 1 video, together with the previous and the next video that is to come, But that would be a very long video then, so I cut it up in parts. Color changes often give a very nice effect. Especially if you have some yarns in a solid colr that you don't particularly like. Together with other yarn it suddenly becomes so much more interesting.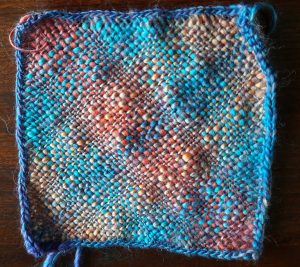 Of course, working with a variegated yarn is fantastic, but you don't have the end result entirely in control. I like that also very much, you bet, to see how it turns out every time, just like opening a present every time 🙂 . But with this you have total control. You can play with the number of rows you do before switching over to another color, you can play with the number of colors, and if you would like you could even change color every singel row, but I will leave that to the real die-hards 🙂 . Could be fun maybe, but a bit too much for me, because you have to finish all these ends. And if there is something that I do not like…! Okay, I will also make a tutorial for this on this website, but I first wanted to give you the video. So have fun watching it!
As always: the video has English subtitles. So you can follow it if you don't speak Dutch.